In the aftermath of the Suez Canal catastrophe, import volumes are at record highs and shipping containers remain scarce. As capacity tightens even further, freight rates are soaring—sending shockwaves through the global supply chain.
Unlike Peak Season volatility—which follows a predictable pattern—the current container shipping climate is "completely uncharted territory," according to Sea-Intelligence CEO, Alan Murphy, in an interview with Port Strategy.
Since 90% of the world's freight travels over the ocean, shippers everywhere need to consider several factors in the midst of ongoing container shipping volatility.
1. Ocean shipping is unusually volatile due to unprecedented supply chain disruptions.
The Ever Given incident didn't create ocean shipping vulnerabilities—it merely exposed them.
Before the canal obstruction on March 23, ocean container capacity was stretched thin due to labor shortages, container shortages, equipment imbalances, and record-breaking import volumes.
This whirlwind of volatility can be attributed to two main factors: COVID-19-related supply chain disruptions and rising import volumes.
At the onset of the pandemic, factories around the world temporarily shuttered as lockdowns went into effect—halting production and the movement of containers. When China resumed exports, containers started piling up in U.S. ports amidst the post-lockdown surge because North America was not on the same recovery timeline.
Soon after, U.S. import volumes climbed as manufacturers raced to restock depleted inventories ahead of holiday season demand.
Imports coutinued to accelerate throughout the remainder of 2020—outpacing container capacity and backlogging ports. These disruptions initiated the first wave of the shipping tsunami that is overwhelming the global supply chain today.
2. High import volumes are squeezing capacity—creating a worldwide container shortage.
In March of this year, imports of goods in the U.S. reached an all-time high of $234.4 billion. This represents an increase of 34% since last June—when volumes first started to climb.
According to the U.S. Census Bureau's March report, demand for consumer goods was up $4.5 billion and industrial supplies up by $3.7 billion month-over-month. Amidst this demand spike, shippers are doing their best to increase production and keep their supply chains moving.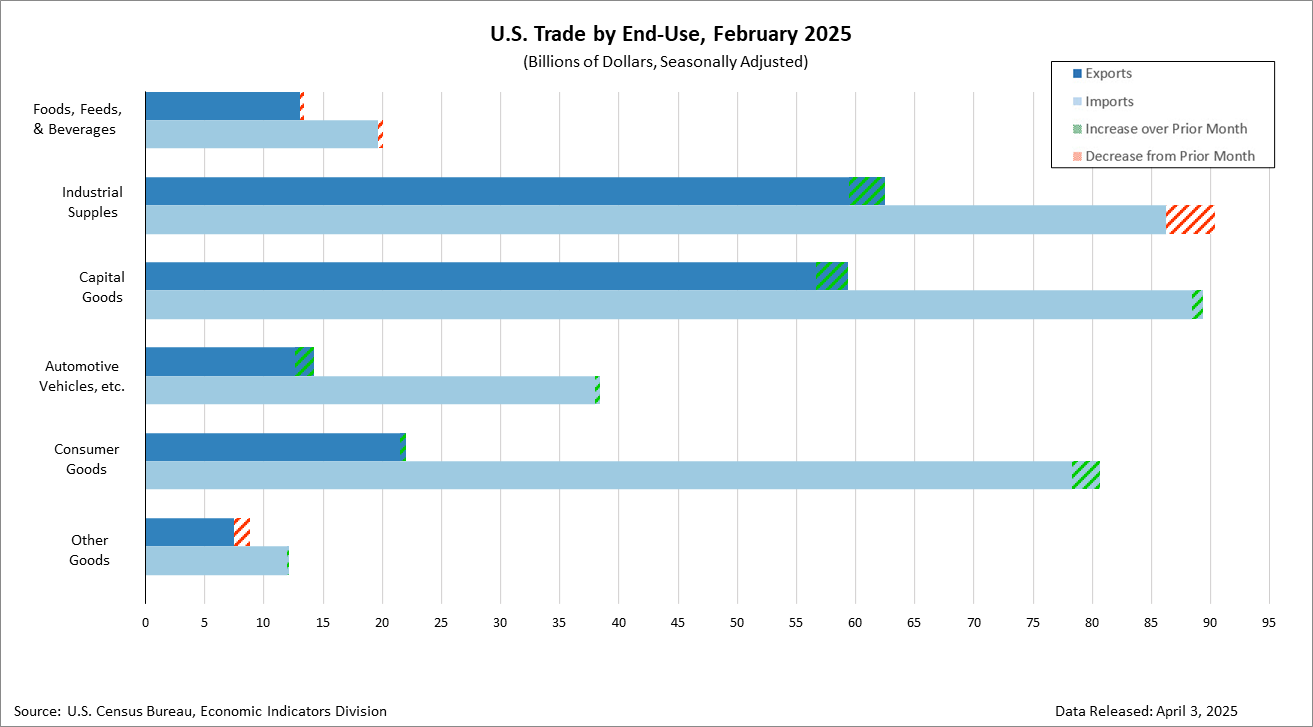 Record-setting import volumes, combined with setbacks in container manufacturing, have created a container shortage across the global supply chain.
"There should be enough boxes to cope with the level of demand in normal conditions," said Drewry's Senior Manager of container research, Simon Heaney, in a recent article. "[But] box usage has extended because of all the delays, meaning it takes longer to release units back to the next customer."
This phenomenon is prolonging delays at ports worldwide and extending delivery times to the worst levels in 20 years. The Port of Los Angeles—the largest port in the U.S. and 19th busiest port globally—has set multiple records over the last nine months during an "unprecedented run."
3. Freight rates will continue to surge as long as shipping volumes exceed container capacity.
As the container imbalance persists, carriers and container manufacturers are thriving, while shippers are paying the price. According to the FBX Global Container Freight Index, ocean freight rates jumped 25% over the last two months.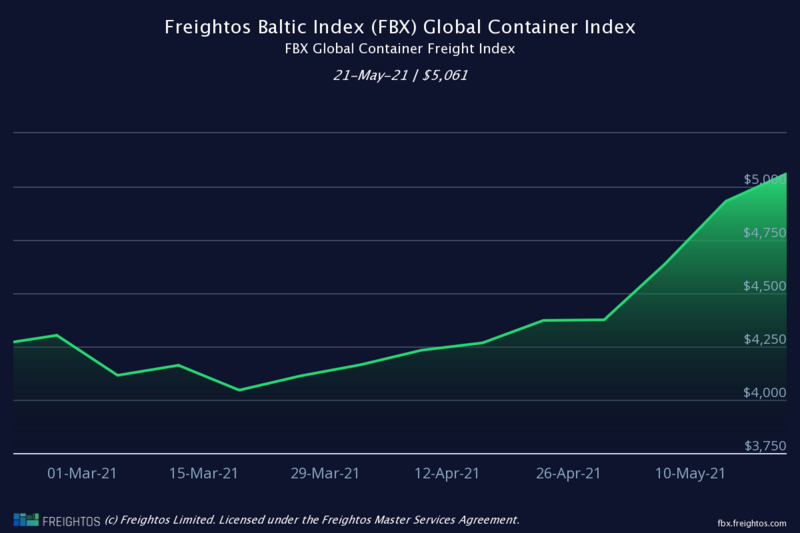 Year-over-year, these rates are even more startling. On average, ocean freight rates across seven major maritime lanes are up 297.8% from last year, according to the Drewry World Container Index.
This means, on average, shippers today are paying $3,317 more per container than they have paid over the last five years.
Unfortunately for shippers, there's no sign that this pattern will end any time soon. While supply and demand in the ocean freight market will eventually return to equilibrium, premium rates will likely linger as long as ocean freight capacity remains scarce.
4. Forecasting your shipping needs has never been more critical.
Lead times have intensified, making it critical for shippers to better forecast their ocean freight needs.
Because of delays at ports around the world, carriers are adjusting their scheduled sailings across several major trade routes. Canceled sailings are on the rise, creating additional disruptions. As blank sailings continue to squeeze capacity, expect freight rates to respond.
Because of the container shortage, some high-volume distributors are willing to pay top-dollar to secure capacity, disproportionately impacting smaller businesses with less liquid capital.
To offset these risks and increase your chances of securing container capacity, make sure to provide Advanced Shipping Notice (ASN) to your freight brokers, carriers, and other providers well in advance of your pick-up date.
Expert Solutions to Help You Navigate Ocean Shipping Volatility
If you're looking for a way forward amidst this supply chain chaos, Inxeption's logistics experts can help. Regardless of your business size, when you ship internationally with Inxeption, you gain several key advantages:
The ability to lock in rates for 3-6 months on capacity from powerhouse carriers
Visibility into all of your shipments via our dashboards
Access to our embedded financial services to infuse working capital into your business and comprehensive shipping protection
The tools to create an online product catalog and sell directly to your customers with your own digital Inxeption EasyStore
Right now, shippers who sign up by May 31st and book their first international shipment within 30 days will receive a $1,000 credit.
To claim your $1000 credit, connect with our dedicated specialists today.