When the success of your business depends on the efficiency of your product distribution, it's critical to execute a shipping strategy that supports your overall business goals.
But with so many transportation modes to choose from to move your freight, it can be challenging to determine which shipping solution best fits your budget and unique needs.
In this article, we unpack the basics of less than truckload shipping so you can better understand how to utilize this particular mode, identify cost-saving opportunities, and make more informed decisions across your supply chain.
We'll address questions such as:
What is less than truckload?
Why is LTL considered a flexible shipping solution?
How does LTL shipping work?
How do I prepare my less than truckload freight for transport?
What's the difference between full truckload and less than truckload?
How does LTL pricing work?
What's the difference between less than truckload and parcel shipping?
1. Less than truckload is the ideal mode for low-volume palletized shipments.
Less than truckload shipping, commonly referred to as LTL, is utilized for small shipments that do not require an entire trailer worth of space.
Less than truckload is the optimal solution when your freight weighs between 150 and 10,000 pounds and does not exceed 8 pallets.
With LTL, palletized freight from multiple shippers is consolidated onto a single trailer for transport.
Because your freight only takes up a portion of the trailer, you essentially split the cost of the truck with other shippers, paying only for the trailer space that your cargo occupies.
2. One of the core benefits of LTL is flexibility.
With LTL, you have several options when it comes to shipment size, carrier types, and service add-ons.
This flexibility makes less than truckload a high-value solution for low-volume shippers who need access to a large network or have special shipping requirements.
In addition to being more flexible, LTL is also more eco-friendly than other modes since sharing trailer space helps reduce your carbon footprint.
As supply chain sustainability initiatives ramp up across the globe, utilizing less than truckload is one way to make your business more sustainable.
3. Less than truckload traditionally operates as a hub and spoke model.
When you ship LTL, expect your freight to be handled several times throughout the transportation process.
Unlike full truckload, in which one carrier picks up your freight and transports it directly to its final destination, less than truckload shipping involves a great deal of loading, unloading and reconsolidation. This transportation model is known as hub and spoke shipping.
Once a carrier picks up your LTL freight, they drive it to a centralized distribution center, or hub, where they reconsolidate shipments based on their final destination.
This process of reconsolidating shipments at warehouses repeats until, finally, a carrier loads your freight for local delivery.
4. LTL freight requires specialized packaging.
Because less than truckload freight is handled so frequently, it's crucial to make sure your products are well-packaged and secured on pallets, so they are not damaged on the way to their final destination.
In addition to ensuring your freight is correctly packaged before pick-up, here are a few other steps you can take to prepare your less than truckload shipment:
Record precise measurements. Always round up when reporting the dimensions of your shipment. If you measure improperly, you will likely incur additional shipping fees.
Properly label your freight. After you have condensed your products and carefully packaged them—placing the heaviest items on the bottom of your pallets, affix your shipping label to the side of your freight.
Provide a bill of lading (BOL) for every shipment. This document, which must accompany every shipment, is essentially a legal agreement between shippers and carriers. The BOL specifies the type of freight, where it's going, who it belongs to (name of shipper), and who is transporting it (name of carrier).
Consider adding shipping insurance. While it's always a good idea to have additional protection for your freight, it's especially wise to use shipping insurance when you have high-value cargo.
Pro Tip: Inxeption's preferred suppliers can help you get top-quality packaging products at affordable prices. Plus, when you ship with Inxeption, you can insure your cargo using our comprehensive, total value Shipping Protection.
5. For a reliable LTL quote, make sure to provide accurate shipment details.
While less than truckload is a cost-effective shipping method, most of the time, getting an LTL freight quote isn't as straightforward as getting an FTL quote.
Less than truckload rates depend on several additional factors, including the density and freight class of your commodity, your packaging type, and whether or not you require specialized equipment or non-standard pick-up/delivery services.
These non-standard shipping requirements are known as accessorials. Some common accessorials include:
Expedited shipping
Residential delivery
Inside pickup or delivery
Limited access
Liftgate
Sort and segregate
LTL accessorials will increase your shipping costs. Additionally, if your shipment details change or are inaccurate when you generate an LTL quote, your quoted rate is subject to change. Because of this, your invoice may include additional charges.
When you ship with Inxeption, you never have to worry about reweigh charges, reclassification fees, or arbitrary accessorials.
We simplify LTL shipping and provide our shippers with reliable capacity at affordable rates, thanks to our predictable flat-rate shipping model.
Related: Learn more about how you can save money and gain control over your freight budget with Inxeption's Zone Pallet Pricing.
6. Full truckload and less than truckload have different use cases.
Many shippers use a combination of full truckload (LTL) and less than truckload services.
Since there are several important distinctions between FTL and LTL, knowing how and when to use each mode is the key to executing an effective shipping strategy.
Here are some basic guidelines to help you determine when to use full truckload vs. less than truckload: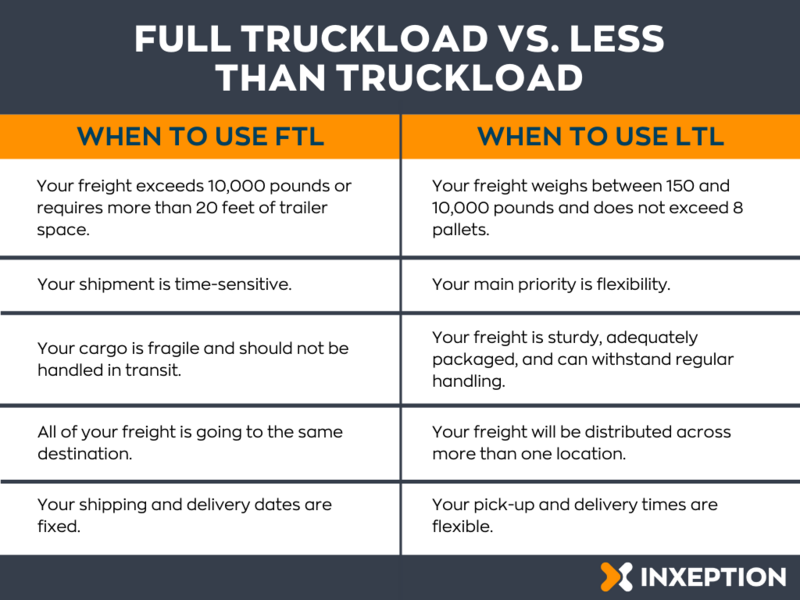 7. While LTL and parcel have some similarities, each mode serves a different purpose.
One of the similarities between LTL and parcel is that both modes utilize hubs and terminals to deliver freight from multiple shippers.
However, less than truckload is used for palletized cargo that exceeds 150 pounds, whereas parcel is used for smaller boxed shipments that weigh less than 150 pounds and do not require pallets or crates.
Additionally, LTL freight is generally loaded and unloaded at the back dock while parcel shipments are delivered at the front door, making it a more accommodating solution for residential deliveries.
Get a Free LTL Quote Today
When you ship with Inxeption, you can avoid the hassle of surprise fees and arbitrary accessorials.
Plus, thanks to our predictable Zoned Pallet Pricing, you can gain control of your transportation budget and forecast your annual freight costs.
To get started, use our shipping calculator to get a free quote.
If you have more questions about less than truckload services or want help determining which mode best suits your business, connect with one of our logistics experts for a free consultation.